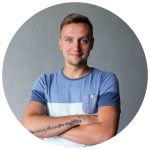 March 4th, 2021. Andriy Deniskin, COO of Contactis, has delivered a presentation at the Bit-Online conference "Modern contact centers – new reality".
He elaborated on the topic of gamification, nowadays more and more companies are trying to use this approach in communication with their customers and in their own internal processes.
Andriy spoke about emergence of the new online platforms for mass events on the market, which allow you to look at ordinary events from different angle.
One of the platforms is zMEET. Presentation, party, corporate event, etc. Now they can be hold online, but with "maximum immersion".
Each participant, choosing a bright avatar, dives into unusual virtual event without leaving home. By controlling your avatar from your computer or smartphone, you can walk, run, dance to the music of your favorite artist, drink coffee with colleagues, swim in the pool, visit the cinema, chat with friends, take selfies and more. Functionality and appearance of the participants are limited only by the imagination of the customer.
CONTACTIS together with partners have an experience in conducting such events. We have already helped several times with the organization of online corporate events, which were attended by more than 5,000 participants from around the world.
We have discovered a new direction in providing informational support. Our agents not only provided technical assistance, answered calls and chats, but also transformed into characters, and communicated with visitors directly in the online 3D environment.
All participants of the conference agreed that this field has a great potential, and one day each of us, at least once, will take part in such an event
Other articles